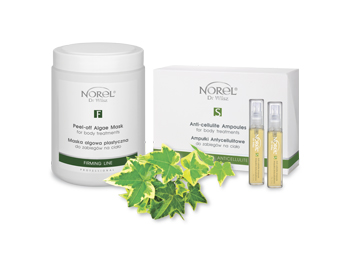 Treatment No. 2
Body modelling and slimming treatment - with algae mask
Body treatment using plastic algae mask, perfect for localized fat (arms, thighs, buttocks, abdomen). Reduces girth of the body, slimms, reduces cellulite and firms the skin Cosmetics used in the treatment contain, among others, Algae Spirulina, slimming complex - ivy, butcher's broom, melilot, carnitine, caffeine.
TREATMENT SUGGESTIONS
localized body fat tissue e.g. shoulders, thighs, stomach
cellulite
during slimming treatment
women after childbirth
as a figure contouring treatment
TREATMENT RESULTS
slimmed figure, reduced body girth
firmed skin
reduced cellulite
stimulated microcirculation
detoxified skin
strengthened connective tissue
moisturized skin
improved elasticity
TREATMENT FREQUENCY
Series of 12 treatments. Three treatments per week.