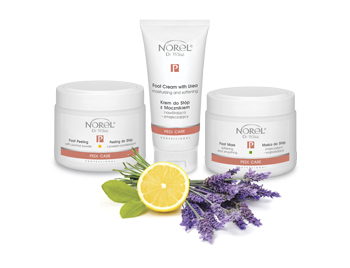 Treatment No. 16
Pedi Care - relaxing and smoothing treatment
Relaxing- Smoothing treatment that provides long-lasting moisturization and softens the skin on the feet. Prevents painful cracking of heels, relaxes and eliminates the feeling of heavy, tired feet. Leaves the skin soft, smooth and with a pleasant lavender - lemon scent. Cosmetics used in the treatment contain, among others, urea, essential oils of lavender, lemon soaps, lanolin, shea butter.
TREATMENT SUGGESTIONS
calloused, hardened and dried skin
heels prone to cracking
dryness and roughness combined with itching of the feet
heavy, tired and swollen feet
tendency to fungal infections, frequent use of the swimming pools and public showers
The problem of odor and excessive sweating
Caution:
With diabetes, some elements of the treatment (use of sharp tools, milling) can be performed only after consultation with the doctor and with caution in order to avoid any interruption of the continuity of the epidermis.
TREATMENT RESULTS
peeled and removed calluses on feet
long-lasting moisturizing and smoothing of dry and rough skin
immediate softening of hardened and calloused skin
regeneration and rejuvenation of micro-injuries of the epidermis
ensuring silky smooth and soft skin
preventing excessive keratosis of the epidermis
prevent painful cracking of heels
protection against infection - antibacterial and antifungal
deodorant effect, preventing malodour
preventing excessive sweating (when used in treatment procedures)
refreshing and relaxing effect
give your feet a pleasant, lavender-lemon scent
eliminated feeling of heavy, tired, swollen feet
TREATMENT CONTRAINDICATIONS
allergies to any active ingredient in Norel products
active fungal and viral infections (feet warts)
With diabetes - open injuries, wounds, cuts within feet and nails
TREATMENT FREQUENCY
As a treatment with 4 procedures, once per week or as a onetime pedicure treatment.