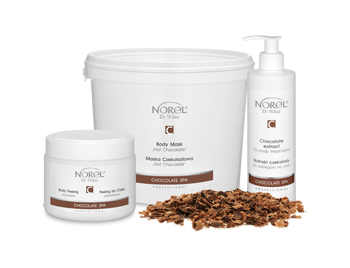 Treatment No. 9
"Hot Chocolate" - relaxing and stimulating treatment
Relaxing and stimulating treatment with the use of hot chocolate mask. It combines stimulant - draining effect of caobrominy and theobromine with the reduction fat deposits. Chocolate also provides aromatherapy and relaxing effects. Skin becomes soft, smooth and healthy with and a pleasant smell. Cosmetics used in the treatment contain, among others, chocolate extract, chocolate powder and Lithothanium Alge.
TREATMENT SUGGESTIONS
excess body fat tissue

during slimming treatment

wellness

early signs of skin aging

stress

deep relaxation
TREATMENT RESULTS
stimulate microcirculation

reduced body fat tissue

improved firmness and elasticity

slows aging processes

deep relaxation
TREATMENT CONTRAINDICATIONS
allergy or sensitiveness for products with chocolate components.
TREATMENT FREQUENCY
Series of 6 treatments. Two treatment per week or during the slimming programme as one of the treatments after detoxification and cinnamon gel mask.