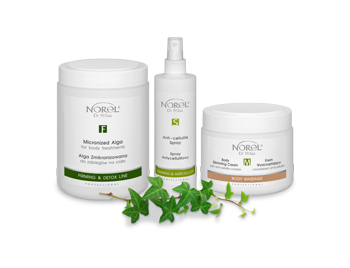 Treatment No. 5
Detoxification and relaxing treatment - with micronized algae

Body treatment using micronized algae. Recommended with obesity, poor metabolism and cellulite. It helps to reduce fatty deposits, stimulates microcirculation, provides a strong detoxification of the skin and remove excess of water from the tissues. Cosmetics used in the treatment contain, among others, Fucus, Ascophyllum algae, slimming complex - ivy, butcher's broom, melilot, carnitine, caffeine.
TREATMENT SUGGESTIONS
stress
cellulite
dysfunctional metabolism
dried skin
obesity
TREATMENT RESULTS
reduced body fat tissue
stimulated microcirculation
revitalized, moisturized and detoxified skin
removed excess of water from tissues
improved skin structure
TREATMENT CONTRAINDICATIONS
allergy or sensitiveness for products with marine components.
poor health, elevated body temperature, kidney dysfunction, cancer changes etc.
TREATMENT FREQUENCY
Series of 12 treatments . Two treatments per week.