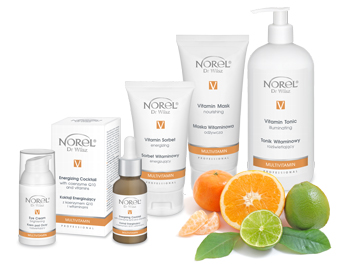 Treatment No. 3
Multivitamin - energizing and nourishing treatment

Treatment for tired, hypoxic complexions. Excellent after sunbathing and for smokers. Deeply moisturizes, regenerates and provides the skin with the highest antioxidant protection, prevents photo-aging. Refreshes, oxygenates and improves skin color. Multivitamin is a real "vitamin bomb" containing up to 8 vitamins (retinol, B3, B6, C, E, F, H, pro-vitamin B5), coenzyme Q10 and extracts of citrus fruits. In addition, formulas based on liquid crystal technology leaves the skin soft and remarkably silky.
TREATMENT SUGGESTIONS
for all types of skin exposed to accelerated aging – skin with excessive UV exposure (sun, solarium), smoker's skin or living in bigger agglomerations.
complexions that are dry, damaged, in need of strong regeneration and rejuvenation
hypoxic, tired, matt complexions with unhealthy color
couperose skin
TREATMENT RESULTS
nourishment, regeneration and protection of the skin that require the strengthening of the corrective mechanisms of the skin
reduced of dryness, tension and flaking - relief and comfort
improved tension and flexibility as well shallower superficial wrinkles
oxygenated, refreshed and improved skin color
provides the complexion with energy, vitality and brilliance
velvety smooth, soft, refreshed and pleasantly scented skin
TREATMENT FREQUENCY
As a series of 6 treatments, two treatments per week. Afterwards to uphold the effect 1-2 times per month.