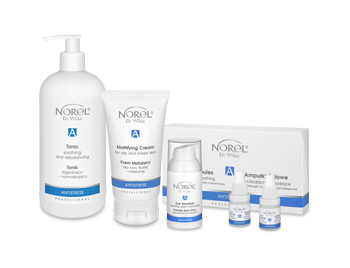 Treatment No. 7
Antistress – calming and normalizing treatment
Treatment for mixed and sensitive complexions of all ages, after the treatment of acne vulgaris, greasy with signs of dehydration. Detoxifies the skin, neutralizes free radicals, calms irritations and normalizes sebum secretion. Products from the Antistress line contains, among others, peat mud, astragalus root extract and licorice, SepicontrolTM A5, tocotrienols.
TREATMENT SUGGESTIONS
mixed and sensitive skin
to uphold the effect after dermatological treatment of acne
poorly nurtured, oily skin with signs of dehydration and irritation

TREATMENT RESULTS
detoxified skin as well as high amount of neutralized free radicals
anti-stress effect, lessened skin's tension
improved skin's appearance
alleviate irritations
detoxified and improved skin self-defense mechanisms

TREATMENT FREQUENCY
As a therapy consisting of 6-10 treatments. Perform two treatments per week. Afterwards to uphold the effect, two treatments per month.