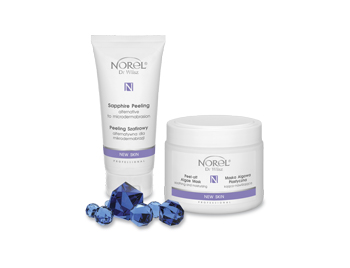 Treatment No. 12
NEW SKIN - sapphire peeling as alternative to micro-dermabrasion
TREATMENT SUGGESTIONS
grey, tired skin

smokers skin

to delay skin ageing processes

as beauty treatment for over 30s
NOT TO BE USED
For sensitive inflamed skin or mechanically damaged skin.
TREATMENT RESULTS
bright and smooth skin appearance

wrinkle reduction

deep skin moisturising

treatment encourages the growth of young skin cells

enhance micro stimulation and collagen production

reduction of open skin pore appearance

deep penetration of active ingredient into the skin
TREATMENT FREQUENCY
For treatment purposes – once a week. 6 applications. Can be used as one-off treatment.