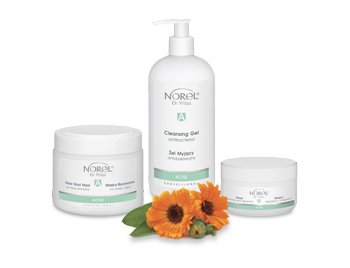 Treatment No. 6
Acne – antibacterial treatment for acne complexions
Antibacterial treatment for greasy and seborrheic complexions with blackheads and acne. Detoxifies the skin, normalizes sebum secretion and reduces keratosis of hair follicle. Reduces the number of comedones and inflammatory lesions of acne - Papules, pustules. Products from the Acne line contains, among others, peat mud, colloidal silver, extract of willow bark, white clay and plant extracts.
TREATMENT FREQUENCY
greasy, oily skin with teenage or menopausal acne problems.
as an extension of dermatological treatment. To reduce acne recurrence.
TREATMENT RESULTS
stabilized sebum secretion
reduced hair follicle keratosis
reduced number of comedones and inflammatory acne eruptions
effectively reduces the formation of inflammatory foci
improved skin color
detoxified and improved skin self-defense mechanisms
TREATMENT FREQUENCY
As a therapy consisting of 6- 10 treatment based on the degree of skin changes.