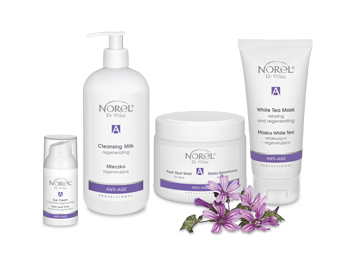 Treatment No. 4
Anti-Age - to delay ageing processes and improve self-defence mechanisms of the skin
Anti-wrinkle treatment that delays the aging process and enhances defensive functions of the skin, after 40 years of age. It provides deep detoxification and regeneration, improves flexibility, brightens and smoothes the skin. Anti-Age line contains, among others, peat mud with soybeans phytohormones and regenerative alfalfa plant complex (Aralia, devil's claw, licorice, alfalfa, hibiscus, marigold), poplar buds, hydroxyproline, vitamins A, C, E, tocotrienols.
TREATMENT SUGGESTIONS
mature skin with signs of ageing
couperose complexion
for tired skin in need of regeneration, strengthening and firming
skin exposed to UV radiation (sun, solarium)
TREATMENT RESULTS
detoxified and regenerated skin
shallower wrinkles, improved elasticity
brightened skin colour
exceptional effect of Anti-Age treatment, strengthes immune system with a strong
antioxidant effect
TREATMENT FREQUENCY
As a therapy consisting of 6 treatments, two treatments per week. Afterwards to uphold the effect, 1-2 treatments per month. As a long term beauty care, 1-2 treatments per month.