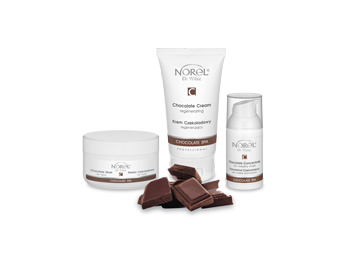 Treatment No. 8
"CHOCOLATE DESSERT" relaxing and regenerating
Exclusive senses and psyche comfort treatment for face, neck and neck line. Should be used for skin lacking moisture requiring stimulation and revitalization (except sensitive skin, acne skin and skin with chocolate intolerance).
TREATMENT SUGGESTIONS
for pale skin

for skin with visible pre-aging processes

for stressed clients

for firming effect
TREATMENT RESULTS
stimulation of Micro circulation and oxygenation

improvement in elasticity and skin firmness

wrinkle softening

delaying of anti ageing process

de -stress and deep relaxation
TREATMENT FREQUENCY
Can be use as an individual anti stress Treatment. For professional treatment purposes ones a week. Approx. 6 applications. Ideal mid winter treatment.