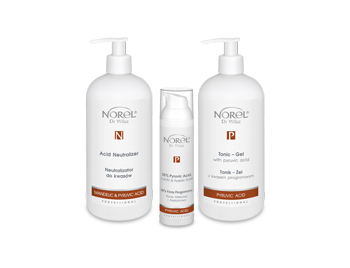 Treatment No. 15
Exfoliation treatment - 35% pyruvic acid, lactic acid, azelaic acid
Exfoliation treatment based on 35% pyruvic, lactic, and azelaic acid at pH of 1.3. It allows you to carry out from the surface to medium-deep peelings. It provides antibacterial and sebostatic effect, exfoliates and smoothes the skin. Lightens discoloration of the skin and provides "brightness". Stimulates the synthesis of collagen and elastin - the skin undergoes remodeling, becomes firm and "compact".
TREATMENT SUGGESTION
seborrheic and polluted complexion
acne vulgaris in active and blackheads phase
enlarged pores, acne scars, pigmentation
excessive keratinization of the epidermis
wrinkles, loss of firmness, the first signs of photoaging
TREATMENT RESULTS
antibacterial effect, speeds up the healing of acne breakouts
strong sebostatic effect - reduced seborrhea and "shine" of the skin, normalized
secretion of sebum
brightens and evens the skin tone and gives the skin a fresh "brilliance"
exfoliated, smoothed and improves the structure of the epidermis
reduced enlarged pores and acne scars
regulated excessive keratinization of the epidermis
smoothed wrinkles and gently tightened skin
TREATMENT CONTRAINDICATIONS
allergy to any of the active ingredients present in Norel cosmetics
damaged skin, immediately after waxing
active herpes, viral warts
local and oral retinoid therapy
psoriasis, the tendency to the formation of keloids
avoid any pigmentation spots during the treatment
pregnancy and lactation
TREATMENT FREQUENCY
As a series of 4 - 6 treatments, one treatment per two weeks.